Career Opportunities
To apply for a position with Precision Garage Door, please read the job listings below and select 'Apply' for the position best suited to your skills and experience.
Apply For A New Career With Precision Garage Door Today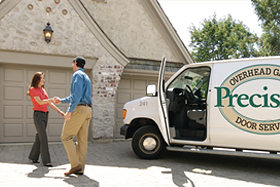 Work For An Industry Leader
Precision Garage Door is the leading garage door repair franchise in the U.S. Our location services Albuquerque and Santa Fe, along with the surrounding areas. Our company is changing the industry and we are committed to providing our customers the best service and products available.
Career-Orientated
Precision Garage Door is a career oriented company that invests in our employees personal and professional growth. We provide you with all the education and training to perform at the top of our field. No experience in the garage door industry is necessary.
Competitive Salaries & Benefits
We understand what it takes to raise a family and offer positions with high earning potential and benefits.
Residential Door Technician
As a Residential Door Technician you will be an integral part of our team. Your duties will include inspecting existing residential garage doors and openers, reviewing repair and/or replacement recommendations with the homeowner, and performing the agreed upon repair and/or replacement work. We provide the truck and all scheduled appointments, and what we need are motivated team members who are good with customers.
Qualified Applicants Should Possess:
Ability to deliver superior customer service.
An exceptional personal and work ethic and strong attendance record.
A commitment to maintaining high quality standards.
A clean driving record.
Ability to pass drug screening and background check.
Ability to lift 75 lbs.
Applicants need only basic mechanical skills and exceptional motivation to serve. This opportunity is for you!
Location: Albuquerque & Santa Fe Area